Design and science are two words not usually mentioned in the same sentence. For generations, the two worlds' have remained relatively separate, however, a recent surge of development and innovation has drawn these contrasting areas closer together than ever before. For the first time, hard science and design are overlapping, the result being an exciting array of fascinating products and installations.
Prestigious institutions like UC Berkeley have started conducting research on the interaction between the respective fields, whilst artists and designers have also begun to implement elements of science, engineering, and technology into their work. The creations mentioned in this article demonstrate how design has overlapped with the following; sound science, photonics, astronomy, and cognitive science.
Devin Curry | 'Working Rhythms' | Interactive Installation
Brooklyn-based interdisciplinary artist Devin Curry created an interactive music installation named 'Working Rhythms' for his ITP final year project at NYU Tisch School of Arts, in which users play and mix rhythm bases with sound loops by manipulating different sonic sculptural objects.
The installation combines elements of design with scientific sounds, in which 8 digitally fabricated sculptures are arranged and rearranged on platforms to control musical loops in real time. Each sculpture contains 6 unique loops that play depending on which platform the object is placed upon, the platforms also enclose LEDs which illuminate the sculptures in different colors. The objective was to turn the concept of intangible physical spaces into a tangible and sensational experience.
UC Berkeley Research | Colour Changing Artificial Skin
Borrowing a trick from nature, engineers from UC Berkeley have created a new chameleon-like material that changes color based on the amount of movement. According to the Optica Research Journal, the new material consists of a high-contrast metastructure, an emerging element in photonics, where spaces between the ridges on the silicon wafer define the color observed. The color of the material changes as flexing or bending occurs, changing the space between the ridges.
Another designer inspired nature is Mathieu Mirano, his enchanting Beetle Dress represents the captivating colour changes of a butterfly and beetle wings.
Creating a material that is more sustainable, durable, and has the potential to change the textiles and fashion industry, the creative engineers delivered groundbreaking work within the optics and photonics field on this piece.
Van Cleef & Arpels | Midnight Planétarium Poetic Complication™
Van Cleef & Arpels | Midnight Planétarium Poetic Complication™
Jewellery brand Van Cleef & Arpels created a timepiece named Midnight Planétarium Poetic Complication™, an astronomical watch that gives both the time and the orbits of planets. Sold at $225,000 USD, the watch is constructed from 18 carat gold and ornamented with semi-precious coloured stones that represent the different planets: Mercury is a Serpentine, Venus is a Jade, Earth is a Turquoise, Mars is a Jasper, Jupiter is an Agate, Saturn is a Sugilite; and a shooting star that indicates the hours and the Sun. The designer draws inspiration from astronomy and the historic traditions of planetariums, celebrating celestial orbits and marking a new chapter in watchmaking history.
Starpool x Neocogita | Zerobody Dry Pool
The components of design have also overlapped with neuro- and cognitive science: Starpool, a spa design company, has collaborated with Neocogita, a brain wellness research company, to create a dry pool in which you can relax without getting wet. Named Zerobody and designed by Cristiano Mino, the user of the product lays down in a heated waterbed which offers all the sensations of a relaxing aquatic moment.
Starpool x Neocogita | Zerobody Dry Pool
During the 'floating' experience on the waterbed, the body stops regulating its temperature and gravitational structure to produce endorphins, which inhibit the transmission of pain signals in the body and occasionally produce euphoria. Color options include a cold (blue) and warm(orange) tone.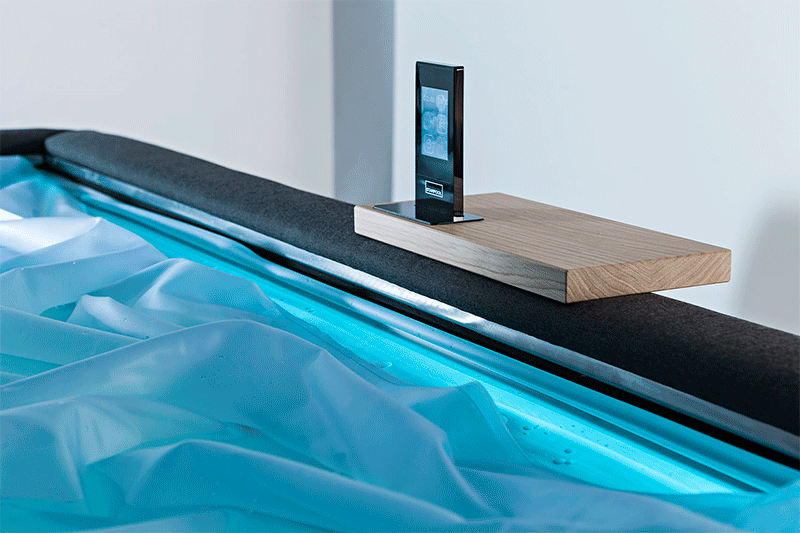 Starpool x Neocogita | Zerobody Dry Pool
As the worlds of design and science are becoming increasingly intertwined, the fusion of these contrasting areas offers the opportunity to share theory and tackle creative solutions faced by modern day society.
Written by Christy Chin
Edited by Christina Wright
References
Devin Curry (2015) INTERACTIVE INSTALLATION: Working Rhythms [Online] Available at http://www.devincurrystudio.com/workingrhythms/ [Accessed on 13/07/16]
JustLuxe (2012) Young Designer Creates a Buzz at New York Fashion Week [Online] Available at http://www.justluxe.com/fine-living/fashion/feature-1827074.php [Accessed on 13/07/16]
The Optical Society (2015) Flexible photonic metastructures for tunable coloration [Online] Available at http://www.osapublishing.org/optica/abstract.cfm?uri=optica-2-3-255 [Accessed on 13/07/16]
Van Cleef & Arpels (2014) Midnight Planétarium timepiece – Creation Highlights [Online] Available at http://www.vancleefarpels.com/us/en/la-maison/spirit-of-creation/creation-highlights/midnight-planetarium-timepiece.html [Accessed on 13/07/16]
Contemporist (2016) Relax in this dry-pool and feel like you're floating [Online] Available at http://www.contemporist.com/2016/04/28/relax-in-this-dry-pool-and-feel-like-youre-floating [Accessed on 13/07/16]